Always a sound choice when it comes to enjoying a beach holiday, the Costa Brava – or 'rugged coast' – offers all year long sunshine, miles of robust coastline and charming seaside towns.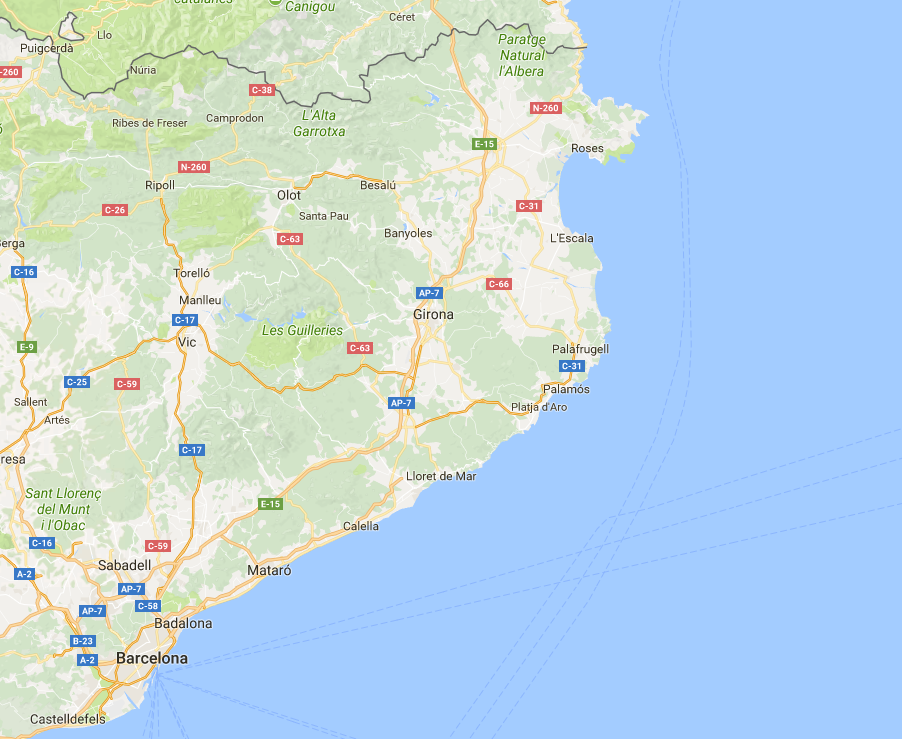 Only a two hour flight from the UK, the Costa Brava is located in the coastal region of Catalonia in northeastern Spain, and borders France. Stretching from Blanes to Barcelona, you can find some of Europe's most beautiful beaches here, many of which boast a Blue Flag certification.
Although warm throughout the year, if you're looking for a sizzling heat then we recommend travelling in high summer. That being said, June and September are fantastic months to choose if you want the heat without crowds.
What to do
One thing you'll swiftly discover when holidaying in the Costa Brava is that the work of famous artist Salvador Dali looms large in many of its towns. You can explore the surrealist's work by journeying to the Dali triangle, a collection of three famous sites which showcase Dali's life and work; the Dali Theatre Museum in Figueres which houses some of Dali's greatest works of art, Dali's home workshop in Cadaeques and the Dali-Gala Castle Museum in Pubol.
Of course, you can explore the Dali triangle at your leisure, but we suggest taking two or three days to gather your bearings and really make the most of each resort.
If you're travelling to the Costa Brava as a family, you'll be pleased to know there's plenty to keep both adults and kids entertained. From the beautiful Girona – a treasure trove of medieval architecture, shops and cafes – to a variety of watersports which you can enjoy on one of the Costa Brava's exquisite beaches, you'll never suffer a dull moment.
For something especially great for families, Water World is an enthralling waterpark that will eat away the hours as you shoot down water slides and splash about in one of their many pools.
Best beaches
Tamariu
This horseshoe-shaped beach is a great all-rounder, with beautiful scenery, shallow waters for children to paddle in and plenty of diving and snorkelling opportunities. The promenade behind the beach is graced with plenty of fresh seafood restaurants and cafes for when your stomach starts to grumble.
Es Codolar
This picturesque beach cove will trick you into thinking you're in some far flung paradise. Es Codolar is accessible by descending some deep steps, so it may not be best suited to families with small children, but its rustic charm more than makes up for that.
Platja del Canadell
Popular with tourists, we'd be lying if we said Platja del Canadell doesn't get crowded in high season, but this Blue Flag beach is famous for a reason. Its calm waters and golden sands make it the perfect place for a family day out, with plenty of nearby shops and cafes to keep you wined and dined.
Where to stay
Calella


Situated 60km from Barcelona, Calella is geared towards families and those looking for a laidback break away from crowds of tourists. As well as beaches which could be mistaken for somewhere in the Caribbean and quaint craft markets in the old quarter, Calella is the perfect relaxed getaway.
If you're looking for somewhere to stay, the Hotel Les Palmeres is a stone's throw away from the beach and has plenty of family friendly facilities.
Jean from Ormskirk says, "Wonderful hotel with everything you need. Large bedroom and bathroom. We had clean towels everyday – lovely large white fluffy towels. Great staff on reception, very polite, nothing was any trouble. Bar staff also very friendly. We stayed on bed breakfast option and it was very good."
Tossa de Mar
On the Catalan coastline, Tossa de Mar is home to two Blue Flag beaches – ideal whether you're travelling as a family or couple. The old town, also known as Vila Vella, boasts cobblestoned streets and traditional Spanish architecture.
For somewhere to stay, try the Golden Bahia de Tossa & Spa, which is crammed with facilities such as a wellness centre, four outdoor swimming pools and a short walk to the famous Platja Gran beach.
Deborah from Huddersfield says, "This was my seventh year on the trot and loved it as always. The staff are amazing, the food is amazing and the location is perfect."
Lloret de Mar
This lively resort is popular with younger tourists, thanks to its main strip filled with bars and cafes. However, by day you can chill out in one of the many seafood restaurants or on one of Lloret's golden beaches.
Stay in the adults only Hotel Delamar, a modern accommodation with boasts its own mini-supermarket and nightclub!
Judith from London says, "On arrival we were dealt with very quickly by a very nice recepionist, the hotel was immaculate, food was very good. To be honest it was all we hoped for."
Have you been to the Costa Brava? Let us know your recommendations in the comments below!